CWRU Lecture-Recital: John Romey PhD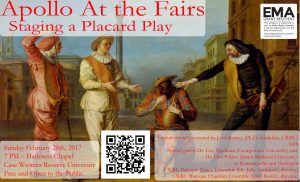 CWRU's John Romey will be giving a lecture-recital in Harkness Chapel on Februrary 26, 2017. 
7:00pm | Sunday, February 26, 2017
Harkness Chapel (11200 Bellflower Rd, Cleveland, OH)
. . . . .
Apollo at the Fairs: Vaudevilles, Subversive Discourse, and Theatrical Legitimacy
Free and open to the public. Paid parking available at meters along Bellflower Road and East Blvd. or in the Ford Drive parking garage.