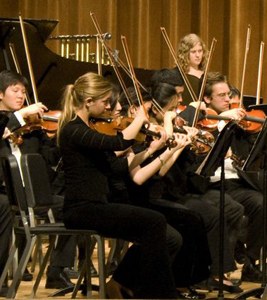 The Case University Circle Orchestra (MUEN 385) is open to all CWRU students, faculty, and community members by audition who play a woodwind, brass, percussion or string instruments and who desire to perform in a high level ensemble.  The group rehearses twice per week for a total of 90 minutes and performs 5 to 7 concerts per academic year.  The repertoire is drawn from standard orchestral literature comprised of symphonies, overtures, suites, etc.  as well as other more contemporary genres such a Rock and Jazz.  The ensemble also works in collaboration with the Case Concert Choir, Case Jazz ensembles, and other University Circle affiliated groups. 
Performance in this group requires a high level of commitment because the repertoire demands outside practice in addition to the regular rehearsals and some of the responsibilities ( dress rehearsals and concerts ) can be outside of the regular rehearsal schedule.  
Orchestral literature requires high level solo wind players since they are usually one person on a part and this also means that there are limited wind slots.  These slots will be given to only the highest level performers.  Accordingly, in order to give as many high level wind players the opportunity to perform in this ensemble, players will rotate between Symphonic Winds MUEN 383 ( which rehearses at the same time ) and Orchestra.  This will require these performers to register for both courses ( MUEN 385 and MUEN 383)  for either 0.0, 0.5, or 1.0 credits.  There is a special second section of Orchestra for wind and percussion players to enroll in so that there is no "class conflict" in SIS.  This will all be explained in the audition.
Similarly, the string section is also very competitive and in order to maintain the highest quality performance of this kind of orchestral literature, the string section must not get to large so as to maintain section clarity.  As a result, we have strict enrollment quotas per section so most first-year students will be assigned to the Case Camerata Chamber Orchestra (MUEN 386 ) until slots are available.  
Audition Information for Academic Year 2017 – 2018
All Auditions for the Case University Circle Orchestra ( MUEN 385, Monday and Wednesday 7:00 – 8:30 pm ) and Case Camerata Chamber Orchestra ( MUEN 386, Tuesday and Thursday 7:00 – 8:30 pm ) will be held in the Denison/Wade Rehearsal Facility beginning on Monday August 28 and continue through Thursday August 31, 2017.  Auditions begin each afternoon around and go through the evening.  
Required Audition Materials will be available on July 20, 2017
String Students may electronically SIGN UP for an AUDITION TIME beginning on July 31, 2017
 ( link will be inserted on July 31 )
If you are wind player, please sign up for your audition on the Symphonic Winds page
All auditions will consist of:
Scales ( 2 – 3 octave Major and Harmonic Minor Scales )

A prepared piece (not to exceed 3 minutes) that shows your level of performance (can be an etude or a solo piece)

Orchestra Excerpts (For String Players ONLY available on July 20, 2017 via this page. 
The weekly audition schedule is divided into blocks of time for specific individuals as follows:
| | |
| --- | --- |
| Monday August 28, 2017 | MUSIC MAJORS ( STRINGS, WOODWIND, BRASS & PERCUSSION  STUDENTS ) AS ASSIGNED |
| Tuesday August 29, 2017 | Non Music Major Musicians |
| Wednesday August 30, 2017 | Non Music Major Musicians |
| Thursday August 31, 2017 | Non Music Major Musicians |
|   |   |
  Audition Information
CUCSO-CCCO-Audition-Info-VIOLIN-2017
CUCSO-CCCO-Audition-Info-VIOLA-2017
CUCSO-CCCO-Audition-Info-CELLO-2017
CUCSO-CCCO-Audition-Info-DOUBLE-BASS-2017
CUCSO-CCCO-Audition-Info-HARP-2017
SW-CUCSO-Audition-Info-WINDS-PERCUSSION
Class Information
MUEN 385 – Case University Circle Symphony Orchestra Syllabus for AY 2017 – 2018 ( will be posted by August 1st, 2017 )
MUEN 385 Performance Dates for AY 2017 – 2018 ( will be posted by August 1st, 2017 )