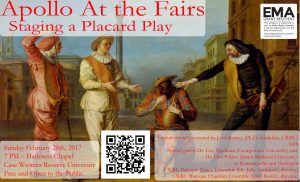 CWRU's John Romey will be giving a lecture-recital in Harkness Chapel on Februrary 26, 2017. 
7:00pm | Sunday, February 26, 2017
Harkness Chapel (11200 Bellflower Rd, Cleveland, OH)
. . . . .
Apollo at the Fairs: Staging a Placard Play with Music.
CWRU Baroque Chamber Ensembles and Baroque Dance ensembles will be performing
Free and open to the public. Paid parking available at meters along Bellflower Road and East Blvd. or in the Ford Drive parking garage.